Dissonance (Scienter Press)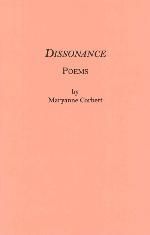 Dissonance (Scienter Press)
"There is not a failed piece in the collection. Every poem deserves to be cited.....Corbett is easily Dickinson's peer, but fully modern, and sitting on a tree in your yard. Wonderful!"
—Judy Swann
". . . a decidedly accomplished chapbook comprised entirely of formal, metrical verse. The collection is remarkable not only for the high quality of its individual poems, but also for its cohesiveness—a sort of internal logic stemming from the gravitas that pervades the work. 
. . . Be warned that there's little unqualified sweetness in Corbett's chapbook. And while it may not please the average blue-hair, this brand of dissonance is quite welcome."
—Nicholas Friedman